Home

>

Busting Out Of The Friend Zone
Busting Out Of The Friend Zone
November 19, 2013
By: Chris Troy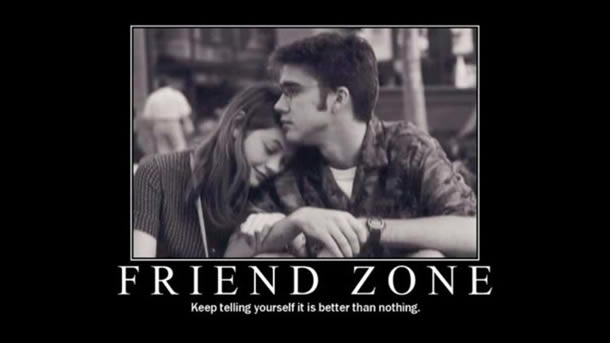 Ahhh, the Friend Zone.  Most of us have been there more often than we'd like to admit.  If you haven't (which is BS), here's a brief description:  There's a gorgeous girl you've known for a while.  She's looking into your eyes.  She's giggling at your jokes and you just can't get enough of her.  You wish you and her can be together, and she likes you too…just, not in THAT way.
It's like she's sooo close, yet so far.  You know what zone you're in?  Here's a hint…it's not the the I-want-lick-him-all-night zone.  And it's certainly not the He's-the-perfect-guy-for-me zone.
Here are 5 steps to bust out of the Friend Zone…and hopefully her making you bust in another way.
1. Accept responsibility.
Here's the bad news; she didn't want to put you in the Friend Zone. You put yourself in there.  The actions you took made her prefer you as a friend, not a lover.  Accept it.  It's not because you are ugly or stupid (actually it might be, but let's pretend it isn't).  You probably did everything you were supposed to do. You were nice, polite, and caring, just like you were taught.  But that's not enough if you want to be more than friends.
2. Pull Away.
Keep your distance from her for a while.  Don't be mean or rude, just focus on other things in your life.  If you keep a bit of distance, she'll naturally value you more.  Robert B. Cialdini Ph. D. and author of, Influence: The Psychology of Persuasion found that people value something more, when it is rare. He calls it "scarcity."  And it works. So be scarce.  The next time she wants to hang out, you can't.  If you usually go out for drinks on Thursdays, cancel the next one or three.
3. Get out there!
Start seeing other people.  Hang out with your friends.  Make new friends. Date other girls.  But don't always shoot for the "home run."  Date girls below your standards too.  If you are new, dating anyone is good practice.  Then just get out there and do stuff.  If you are having fun and facing your fears, then you're on the right track. And even though you aren't thinking about HER, she's probably thinking about you.  And hoping you'll reach out to her again.
4. Say hello again
After some time, contact her again to hang out.  This time act a little differently.  Be mysterious.  Don't tell her everything you've been doing and be vague so she itches for more.  Also, focus on getting her to open up.  Be curious about what she's been up too (even if you aren't).  If she's enjoying herself, make it seem like she just caught your attention now.  Then smile, look in her eyes, and change the subject.  If done right, it's golden.  If done wrong, well, it's just awkward.
5. Make your move
It's money time.  Once you reengage her, you want to go for a kiss within the next few days.  That means hanging out again, but nothing serious.  Make sure you will be alone, relaxed, and comfortable.  Get talking to build a strong emotional connection, and passively touch her during conversation.  If things progress the way they should, the two of you will be making out like animals in heat.  Take it as far as it naturally will go.  And don't worry about being smooth…just go for it.  Women love guys who go after what they want.
Final thought:  After you've bagged her and wifed her and had 29 kids, shoot us a message and let us know.