Home

>

Mastering the Wine on Date Night
Mastering the Wine on Date Night
November 22, 2013
By: Chris Troy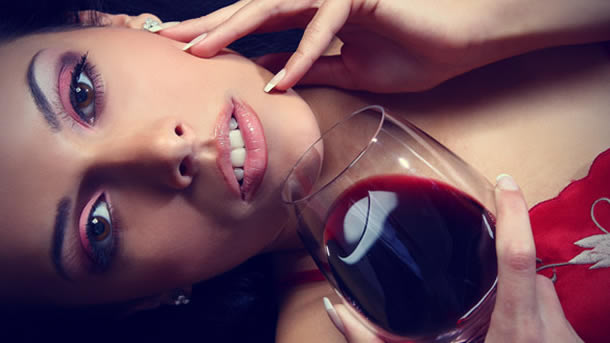 If you're on a first date, even if you appear calm and collected, chances are you're probably pretty nervous. Combine the nerves with a restaurant's daunting wine list and you could be in for one unpleasant or embarrassing evening. But even if you don't know your Merlots from your Cabernets, doing a little pre-date homework could go a long way toward an invite in at the end of the night.
Do a little homework
Call the restaurant or check their website to see if they have a copy of their wine list. Then pick a few options that sound interesting and are within your price range and do some research online. Read up on the varieties and learn more about them; read reviews and blogs to know what flavors you should be tasting. That way when you claim to taste plum, oak and hint of pepper, she'll be none the wiser.
Fine wines from big-name producers that won't break the bank
Many big name vineyards also make wines designed for daily consumption. These wines, often known as "second label wines", are made by some of the most prestigious wineries in the world, but cost a fraction of the price of their first-class vintages. Plus, you'll look like the man when you tell your date that the wine is from the makers of another well-known, impressive label. As long as you pick up the tab, she'll have no idea.
Request tasting for two
Since you'll both be drinking the wine, why not both taste it ahead of time to make sure the wine meets your quality standards and satisfies your palate? Plus you'll look pretty suave and progressive including her in this once chauvinistic ritual.
Lastly, and perhaps most importantly, it's good to know a little bit about what wine will go with what food you and your date are ordering. While this may sound like a daunting task, it's really not as cumbersome as it sounds. And, when done well, will impress the hell out of the girl.
Pairing Wine and Food
Pairing wine and food is an ancient and respected art form which has been around as long as, well, wine and food. Of course each pairing is an individual choice and what may seem like a perfect match to your girlfriend or your best friend won't do anything for you. However, there are some general guidelines which can be followed for the best potential matches, especially when you're just starting out into the world of wine.
Generally, however, you want to drink your wines from light-to-dark. When you plan a meal, you start with delicate tastes and work towards heavier ones so naturally your wine should do the same. Thus, Champagne or other sparkling white wines tend to go very well with light appetizers and hors devours. White wine tends to pair best with salads and lighter dishes, like poultry and fish, shrimp, oysters and seafood with lite or cream sauce. Lastly, red wines work with strong cheeses, pasta with red sauce, steaks and heavier meat sauces. To wrap up the meal, port is often served with chocolaty desserts and is meant to be sipped on.
Even if you really don't care about wine and still prefer a 30 rack of PBR to a Vintage Bordeaux, You never want her to know that. An at least remedial knowledge of wine and at least appearing like you give a shit will always go a long, long way towards getting you that sought after second date.