Money and Burgers, In-N-Out's Billionaire Owner
November 22, 2013
By: Chris Troy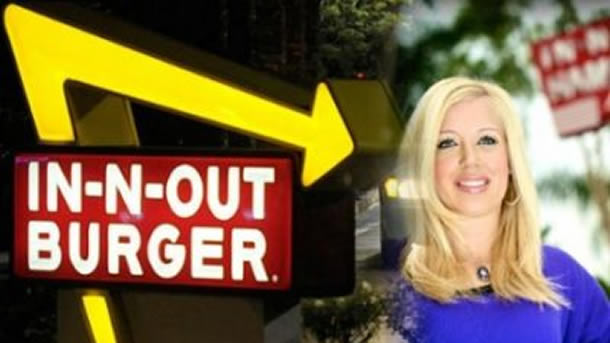 What do you get when you combine one of the best burger joints with a 30 year old hottie?  Obviously Lynsi Torres, the youngest female billionaire.  She's the granddaughter of  Harry and Esther Snyder, the founding man-and-wife team who brought us In-N-Out Burger.  Back in 1948 the chain started as a single drive-thru location in southern California.  Today it has locations in a handful of other states, and even though it has always preferred to keep operations tight nit and local, the brand is beloved the world over.  Control of the company has changed hands many times since then, notably due to several deaths of high-ranking family leaders.  Currently the reigns fall onto Lynsi, the young heiress who inherited the company when she was a mere 17.  She was running In-N-Out while we were playing Mortal Combat and popping pimples.  To each their own.
Although Lynsi hasn't been in the spotlight and likes to keep a low profile, a few fun facts we do know about her are:
1 – She's been married a few times already and has a set of twin children.
2 – She loves to drag race, which, beyond the whole burger thing, is beyond cool.
3 – As is the case with many from the region, although you see blonde on her head, she's actually naturally brunette.  Blonde, Brunette, ketchup, or secret pink sauce, it's all good to us!
4 – She has very little formal education.  No college degree and no training in restaurant management or business.  C'mon, as if you would have any of that either if you were in her shoes.
5 – She'll gain complete control of the company at age 35.
6 – Burgers, burgers, burgers.  How she stays away from eating her companies product 24/7 is anyones guess, but the fact that she could have as much as she wants puts her onto a whole other level.
What she does with the company in the years to come is anyones guess.  It's long been known that the founders refused to expand in the way Mcdonalds and other burger places have.  Instead, they made it a point to keep things closer, smaller, and with more control over their quality.  Let's hope the new heir follows some of the principles that has kept this place near and dear in so many hearts.
Oh, and the blonde hair works for us.