Pairing Beer and Food
November 22, 2013
By: Chris Troy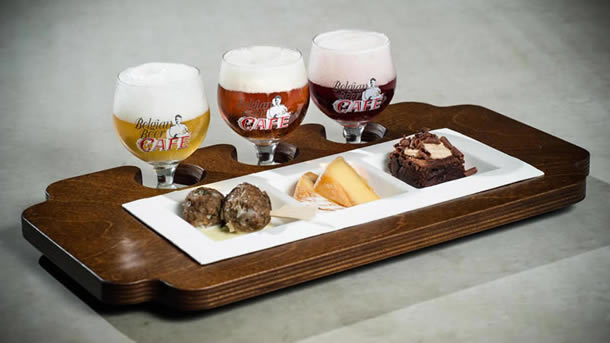 The concept of pairing wine and food has been around as long as, well, wine and food. But the idea of pairing beer and food still seems a little new and much less traditional. This is odd, really, since the range of styles and flavors in beer far outnumber those of wine, making pairing beer and food much easier, as there is much more to choose from. Whether you enjoy beers which are light in color and light on taste or beers which are dark and heavy; whether you're throwing a pizza and wings Super Bowl party or having a sexy oysters on the half shell and chocolates second date, there is a perfect beer out there to compliment your meal.
Basic Pairing Rules of Thumb
The most important thing to remember when pairing beer and food is to be weary of impact, meaning the impact of the beer on your palate. While a light-bodied pilsner will pair well with a lighter dish like salads or salmon, the same beer would be lost on a rack of barbecued ribs, where a dark, full-bodied brown ale or porter would have the backbone to stand up to the meal.
On the other hand, beer pairing can often offer a great contrast to the food you're eating. Light American Lagers can be a refreshing contract to the spice of Thai dishes and the bitter hops in India Pale Ales (IPAs) slice cleanly through the oils and fats of richer dishes, refreshing the palate.
Pairing Recommendations
As mentioned, American lagers contrast perfectly with Thai and Pan Asian foods. They also pair well with Latin and Mexican foods, cutting down on the heat and spice. Pilsners pair well with salmon, tuna and other fatty, oily fish. The caramelized malts in Marzen/Oktoberfest beers pair great with chargrilled and seared meats. The sweetness of Bock beers contrasts the spicy, intense flavors of Cajun, jerk and other slow-roasted, seared foods. Hefeweizens pair with white sausage and intense flavors like mustard, pickles and horseradish, while wheat ales and blondes pair well with scallops and shrimp or contrast with hot & spicy foods, Asian dishes and salsas. Pale ales go with heat-charred, smoky and aromatic flavors, and India Pale Ales go with intensely flavorful, high-spice dishes like curries and bold desserts like crème Brule. Brown ales stand up to hearty meats like roasted pork, smoked sausage and barbecue and compliment other nutty flavors and peanut sauces.  Porters work well with smoked meats, especially bacon, and compliment chocolate, espresso and coffee-flavored desserts, as well as soft, creamy cheeses. And lastly, strong stouts highlight the nuttiness and caramelized character of dishes with brown, savory sauces. Stouts also compliment silky and salty food like Oysters on the Half Shell.
The most important piece to remember when pairing beer and food is to have fun and don't be afraid to be a little adventurous; try new pairings, try things that might not make sense and make note of the way the flavors combine and complement one another on your palate. You will be amazed at the impact the perfect pairing will have on your dates and your boys alike.