Home

>

Digging for Digits the Successful Way
Digging for Digits the Successful Way
June 18, 2013
By: Chris Troy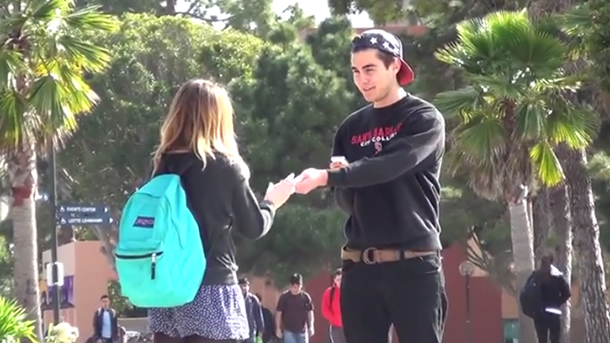 This may very well be the bane of every man's existence: getting a girl's phone number. How many times does a guy have to take the rejection? Or be given a number that belongs to an old lady and not the hot girl from the bar? Once I had the right number, but her voicemail had a scathing message on it, informing all of us "desperados" that she wasn't interested and to go to hell. What gives?
I started a bit of investigative work, and soon found a damn near fool-proof way of getting a girls' number. First and most importantly: body language. You have got to spot the girl who is laughing, talking with numerous people and is engaging others. There is no point trying to go after the smirking recluse who is more interested in her Apple Crantini than what's going on around her. Why waste precious time? We're going for efficiency here.
Once you've spotted your girl, get up and hold your gaze on her while walking over. Be sure to smile, so your "stare" doesn't come off as creepy (even if she isn't looking at you, one of her friends has probably taken notice). When you get to her, you then say… what? Do not start telling her how pretty she is, as it's guaranteed she's heard it several times that day already. Do not open with the cheesiest one liner ever – except if you're doing it in a mocking tone. You may want to start thinking of a brazen, yet flirty, opening statements.
Here are some ideas for how to talk to girls during the first meeting:
• Compliment her, but not so much on her physical appearance. Again, she's heard it all before. If you're really strapped, you can comment on what she's wearing
• Paraphrase what she says and ask intelligent questions. Be the guy who listens.
• Playfully argue with her. Playful, not asshole-ish.
This next tip may seem obvious, yet few guys do it: use her name frequently in conversation. Not to the point where it's obvious and robotic…but enough to give her the impression that you're perceptive. Using her name definitely helps wire a connection and a sense of familiarity.
If at any point she starts to get that glazed, maybe slightly bored expression on her face, either change the topic or ask her if she wants a drink. Just be sure not to offer the drink as an opening topic (again, they get that all day). And not interrogation…this is flirting, not a job interview.
Most people will agree that this final step is almost as important as how to approach the girl: you must leave the girl before the girl leaves you. A few minutes into the interaction when things are going smooth, make up some B.S. excuse about needing to take off. You can outright ask for her number, or if you're slick, act like she already gave it. Something like "I gotta run but let's talk again." Or "let's pick this conversation up again tomorrow". That's when she'll remind you that you don't actually have her number, and she'll need to give it to you.
If you got this far, congratulations! If you really have game, a great thing to do is to find a spot some where closer to the exit of the club where you can still see her, but you cannot be so easily spotted by her. Text her at that moment with something sweet, such as "Sweet dreams cutie/shorty/babe". See if she picks up her phone and sees it. It's a good way to test whether or not she gave you the right number, plus you come off looking like a first-class man.
Just don't mess it up by not calling her the next day.