Piaggio MP3 500
July 10, 2013
By: Chris Troy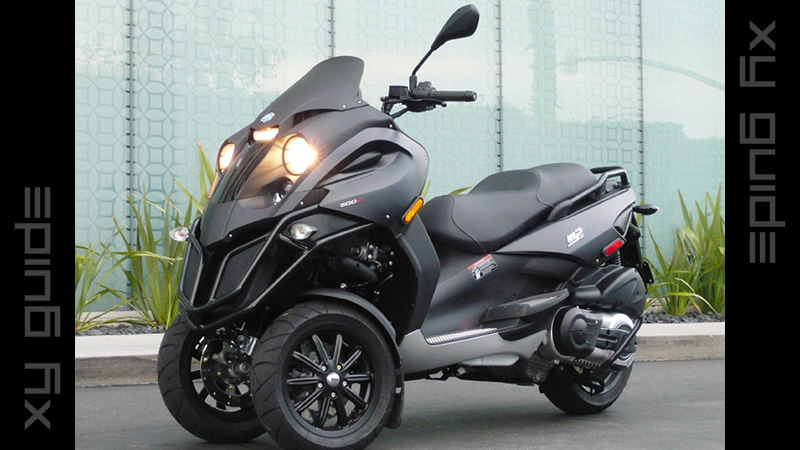 Let's face it; did you ever think you'd consider riding a scooter on American roads? Or worse, in the city? Neither did we. At least not until we got our hands, and feet, on the sporty new Piaggio MP3 500. All right, already. Enough with the iPod jokes.
My friends wouldn't consider me all that brave, or adventurous, so when I agreed to test-drive this ride, more than a few eyebrows cranked up in my presence. Let's just not discuss the poor woman probably taking her kids to school that gave me a look of dread as I nearly sideswiped her minivan, shall we?
In this eco-friendly, carbon footprint conscious society, we're not going to sneeze at 60 mpg or the 500-cc's of power this scooter generates to push it to almost 90 mph. You may receive a sneer or two from die-hard bikers, we just don't suggest waving at them. It's distinctive look won't be confused with the Vespa as the two front wheels also offer greater stability and 20% more braking ability than its two-wheel cousin.
Now, for the fun stuff. Packing a stadium full of amazing into this little package, you'll look like a pro speed racer if you take advantage of the 40-degree lean angle. 40-degrees can be intimidating, but with those two stabilizing front suspension wheels, you can't miss. It's a blast to ride, plain and simple.
If you take this down the trendy neighborhood streets near you, with their exotic cars hovering in the driveways, you'll be sure to turn a few heads. The black model resembles something Christian Bale might be riding in the next Batman film.
If you're like most professionals, your next concern will be features. How about an under-the-seat power supply for your laptop or cell phone? Works for us. You won't have to worry about draining your battery and not having any way to charge it.
When you're ready to see what this thing can do, and you've convinced the girlfriend or wife that it's safe, all you need to do is twist your wrist and feel the brisk acceleration. The road beneath your feet will rush by in a blur, but keep your eyes on the road ahead. With the Piaggio's automatic continuously variable transmission, you're in for a soft, smooth ride.
When you're cruising into the city and facing a ton of red lights, don't fret; this beauty has an electro-hydraulic locking mechanism that allows you to keep your feet up on the floorboards the entire time. If you're tired of waiting through long lines of traffic just to get through the next light, the Piaggio is narrow enough to split lanes, bringing you to the front of the pack. Now that's practically worth the price right there.
And don't worry about ever getting lost. Options like the Tom-Tom could make this little beast awesome for longer trips as well. Coming in at just under $9,000, the Piaggio MP3 500 scooter is a blast to ride and, take it from me, it doesn't get much more idiot-proof than this.